'All Too Human' couldn't have received more mixed reviews from the press. Writing for the Guardian, both Tim Adams and Jonathan Jones gave it 5 stars, calling it "thrilling and thoughtful" and featuring "works of art that truly matter, in their humanity, courage, feeling, truth". Waldemar Januszczak, on the other hand, found that "the show wasn't actually about anything". According to Jackie Wullschlager from the Financial Times,  the exhibition "is both unmissable and Tate Britain's most grievously squandered opportunity yet". You can thus imagine my curiosity and excitement as I finally ventured to see this exhibition with my own eyes.
The first thing that strikes about this display is its title. "All Too Human" is the title of a book of aphorisms by Nietzsche written in 1878. In Aphorism 35, he writes: "That reflection on the human, all-too- human is one of the means by which one may lighten the burden of life… gather maxims and thereby feel a little better".  As with almost everything Nietzsche wrote, there are countless ways one could interpret this. What does it mean to reflect on the "all too human"? Is that something we are, or we experience, or we see in others?
The intent of Tate's 'All Too Human' is to capture a slice of life and to explore "what it is that makes us human". Now, one could argue that all art deals with what it means to be human after all. On the one hand, therefore, the exhibition could be seen as taking a rather generic and fruitless approach. It's also quite difficult to know what to expect from an exhibition like this. However, the exhibition manages to takes us by surprise, letting us discover the magic of minor artists, or delight in how well landscapes can complement portraits. In fact, much like real life, the exhibition has no single strand, but should be taken for what it is, in its kaleidoscopic variety. Some rooms work better than others, and some artists are more inspiring than others – but isn't this also true about life, full of ups and downs and with the prospect of finding beauty lurking around every corner?
From the outset, the exhibition sets out to include a great variety of works, techniques, and genres. The first room, entitled "The Raw Facts of Life" features women, bird-eye views of cities, butchers, bridges and self-portraits. In here, it is fascinating to compare the different handling of texture, from the luminous skin of Spencer's portraits to the tremulous quality of Sickert's brushstrokes.
Walter Richard Sickert, 'The Studio: The Painting of a Nude' (1906)
Then comes one of the best rooms of the whole exhibition: a juxtaposition of some Bacon's (who is also one of the two main protagonists of the show) with a sculpture by Giacometti. Seeing their work side by side, one realises that the two artists have the same existentialist approach, and strive to capture the same isolation, the same scream of despair, as in Bacon's celebrated 'Study after Velázquez' (1950). In both artists, one can see a remarkable representation of what hell could be like, in all its unbearable oppression and anguish. While not being a huge fan of Bacon, I valued the powerful connections created in this room, which gave a whole new light to Bacon and Giacometti as I knew them. Crucial to note: not all art goes this well with Bacon. When placed next to the photographic portraits of John Deakin, the effect is a lot less stunning and inspiring.
As well as the struggle that is living, the exhibition touches upon the challenge of capturing life in art, as in William Coldstream and Euan Uglow's meticolous record of reality through measurement. Their paintings uncover how hard it is to pin down reality as we see it – Uglow spent several years on his 'Georgia'. In the same room, Freud makes his first appearance, with one of his most famous paintings, 'Girls with a White Dog' (1950-1). Here, as well as his painstakingly rendering of the dog's hair, his wife's skin, and the gown's softness, we get a glimpse of the woman's alienation, discomfort and fear.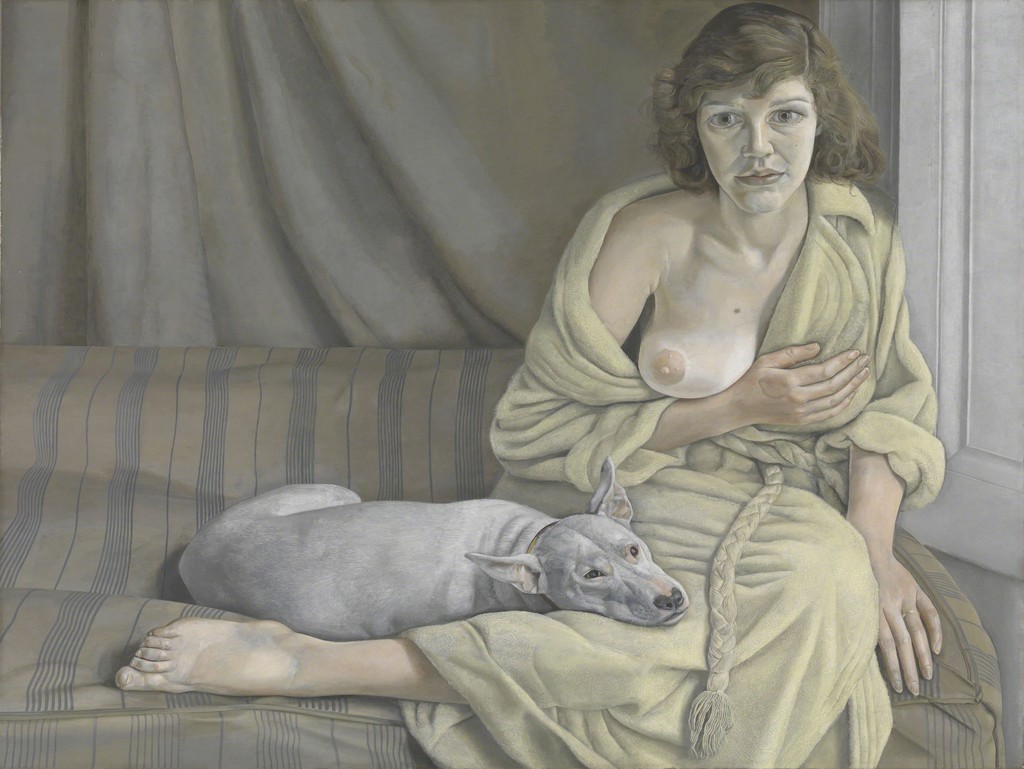 Lucian Freud, 'Girl with a White Dog' (1950-1951)
Contrasting with such a methodical, mathematical approach is David Bomberg's notion of rendering the physical experience of a person or landscape. In 'Reclining Figure' (1954), we sense all the breezy laziness of a sunny evening or morning, with a gorgeously tactile quality in the work. And building on a few of his landscapes we are then taken into the realm of Frank Auerbach and Leon Kossoff, and their dense, firm handling of paint and surfaces. Their snapshots of the city of London in particular are a vivid testimony of their attachment to the city. With bold, confident lines, and a very solid use of the pigment, they engage in the depiction of humans deeply immersed in their city.
Lucian Freud comes back as undisputed protagonist in the largest room. Focusing on the art he produced in his studio (and of his studio), the gallery emphasises the "voluminous presence of a body" and its "psychological weight". Freud's fascination with flesh, his slightly unnatural poses, his mix of glossy and coarse textures are all part of a bizarre harmony in which life, quite simply, jumps out and gets you. This might sound silly or unfounded, but walking around the gallery one gets the distinct feeling of being presented with pure, unfiltered human experience.
In other galleries, the exhibition introduces new (or slightly lesser known) artists, such as F.N. Souza, with his arresting representation of mourning in dense tones, and, later on, Bacon-influenced artists Michael Andrews and R.B. Kitaj. While each of them has his own distinctive focal points, they all include collective scenes in their art, providing a gentle, but smart transition from simple portraits to works investigating social relationships. In this sense, 'All Too Human' displays a masterful command on the way the various room flow into one another. Indeed, in many ways it has the same stream-y, slow-paced, smooth quality of life itself.
Focusing on more contemporary art, the final room strikes as quite different, and rather rushed. Featuring Celia Paul, Cecily Brown, Jenny Saville and Lynette Yiadom-Boakye, among others, each of them would have deserved a room of her own. There are paintings from life and from memory, works completed over years or in a few hours. We see bodies, faces, forests, stories, couples, families. There's a lot to take in, and after the journey we've been on throughout the galleries, I found it hard to absorb the numerous stimuli offered. This is true of much of the exhibition: a lot to see and process, some of it creating stimulating discoveries, the rest at times feeling a little odd. But, after all, so is life.
Celia Paul, 'Painter and Model' (2012)