It's unexpected, immersive, stirring, and as manifold as life itself. It's (finally) a retrospective that shakes off the "partner-of-Pollock" label from Lee Krasner, and displays her work through the incredible journey that was her life.
Curator Eleanor Nairne gives the show a bold start: the first works come from the 1940s, where Krasner was well into Abstract Expressionism, and produced gems such as a kaleidoscopic 'Mosaic Table' made out of a wagon wheel and a tessellation of other found objects. This sets the tone of the whole exhibition: there's plenty of twists, turns, tricks, and surprises.
Lee Krasner, 'Composition' (1949)
Lee Krasner was the daughter of a Russian, Yiddish-speaking Jewish family, emigrated from Odessa (modern Ukraine) and living in rather modest conditions in Brooklyn. Having decided to become an artist at the age of 14, she completed her art education at Washington Irving High, the Cooper Union, the National Academy of Design and the Hans Hofmann School of Fine Art.
The second section of the show takes us back precisely to these years, more specifically to her debut as an artist while studying the prestigious National Academy of Design. She painted an arresting 'Self Portrait' (1928) en plein air in the wood, capturing the glimmering light filtering through the foliage (a bit like Renoir, if you like). Equally impressive are her nude sketches, both before and after being taught by Hofmann, who introduced her to analytical Cubism. A rather involved (or intrusive) teacher, Hofmann would personally intervene in his students' canvases to "correct" their style. Needless to say, Krasner hated it, but nevertheless Hofmann made a long-lasting impression on her work.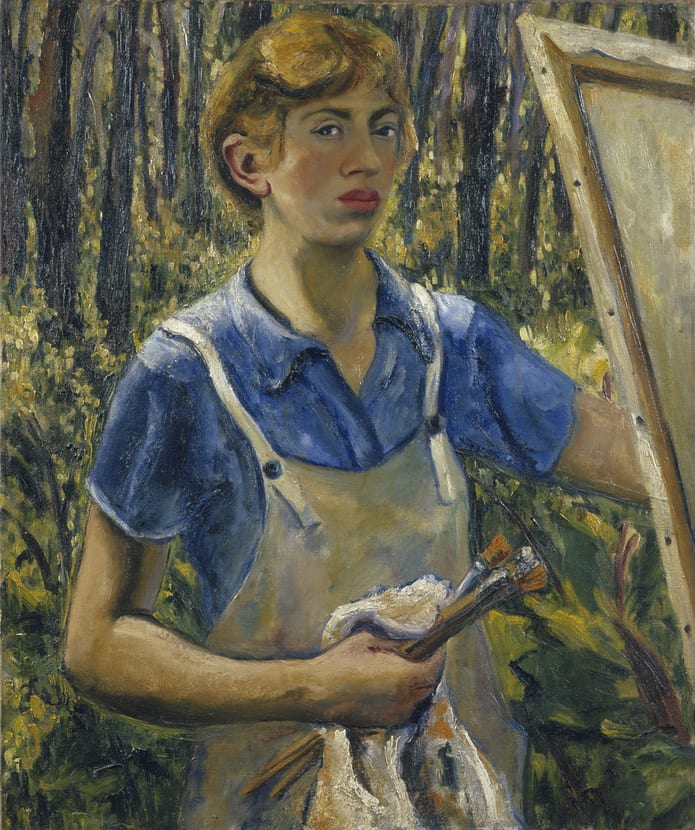 Lee Krasner, 'Self Portrait' (1928)
Early enough in the show of the most typical features of Krasner becomes apparent: her versatility, her propensity to mix media. "I change medium to re-stimulate myself. It gets me working and that's the important thing", she remarked. Her approach is mirrored in the sheer variety of content encompassed in this show, from oils on canvas to works on paper, and from collages to photographs of other people's work (!). Her genius lies in always being able to re-combine the elements she had at hand.
After a solo exhibition at Betty Parsons Gallery in October 1951, for instance, she became dissatisfied with her own paintings, so she decided to 'collage' over them, adding burlap, newspapers, and photographic paper, with stunning results. The process of auto-reinvention and regeneration reaches an apex in 'Untitled' (1954), where the chips of blue were colourfully described by my friend as "the wasabi" of the painting.
Lee Krasner, 'Untitled' (1954)
Matching Krasner's artistic inventiveness was her resilience, even in the most tumultuous of times, such as the tragic death of her husband Pollock in a car accident. In spite of the shock and the grief, Krasner continued to paint, strenuously, claiming that "painting is not separate from life, it is one." The disturbing, powerful uneasiness, combined with a sense of boldness exuding from 'Prophecy' (1956) and 'Embrace' (1956) are a testament to her tenacity.
In the rooms downstairs, the exhibition explodes in both size and palette, with Krasner's most impressive and magnificent works. These are living and breathing canvases that, monumental though they are, still struggle to contain Krasner's ebullient spirit. The orange, magenta, and white of 'Icarus' (1964) are powerful and iconic, and so is the vehemence of 'Another Storm' (1963), which she painted using her left arm only, while her right one was broken. I didn't realise how much the paintings were sinking into me until I reached a little room where some of her smaller works were gathered. There, for a moment, I found a respite I didn't even think I needed.
Lee Krasner, 'Icarus' (1964)
I loved the closing series 'Eleven Ways to Use the Word to See', where each work is called with a different verb form, such as 'Imperative', 'Future Indicative' and 'Imperfect Indicative'. This reminded me that in Ancient Greek  the verb 'to see' in the perfect tense means 'to have seen, therefore to know' (ὁράω and οἶδᾰ for the geeks). By being exposed to Krasner's works, I had the impression I was being immersed in a watershed of instant knowledge.
The fact that she never developed a signature style, she refused to be pigeon-holed into a single artistic practice, and she never ceased to experiment with new techniques is further emphasised in the series of interviews we see at the end. She truly must have been an explosive, restless, indefatigable person, which couldn't have been conveyed more effectively in this show.