Cross-pollination across different artistic media is always exciting: I was mind-blown when music met painting in the National Gallery's Soundscapes exhibition, and when I saw literature in conversation with the visual arts in Orhan Pamuk's Museum of Innocence.
So what happens when dance, and classical ballet in particular, knocks on the door of the big screen?
Romeo and Juliet: Beyond Words is half a drama feature film and half a rigorous classical ballet (so it's not just a ballet screened in a cinema – it's more complex than that). As a film, it's shot on location, in the suitably historical-looking village of Etyek (Hungary), with a warm light and a real-life feel; it's a free-flowing sequence of scenes one after the other, without intermissions or act divisions; the shooting is dynamic and polyhedric, with frequent close-ups and lingering on individual characters.
As a ballet, on the other hand, it features a full narrative built on Prokofiev's sublime score, played by the Orchestra of the Royal Opera House and with the timeless choreography by Sir Kenneth MacMillan. As such, it stars the dancers of the Royal Ballet, including a vivacious and expressive Francesca Hayward and a warm, soulful William Bracewell in the titular roles.
Francecesca Hayward in a still from Romeo and Juliet: Beyond Words
The show was conceived by Michael Nunn and William Trevitt, AKA the Balletboyz. For what it stands for, it's an admirable and groundbreaking production. Behind it, one can see the desire to bridge the gap between the high-brow (or perceived so) world of ballet and more accessible/pop forms of culture. If we mix classical ballet with cinema, surely more people will get to enjoy it?
The show works on many levels. For one, it offers more striking insights into the intimacy of the two lovers, more compelling and engaging duel scenes, and more impressive-looking group routines, which the camera is able to capture with remarkable subtlety. Indeed, everything feels more vivid, more "present", more palpable.
There's also significantly more acting on the dancers' part, more so than in a traditionally staged version of the ballet. When Juliet makes her first appearance, we get a very nice sense of her personality as a young girl, more interested in playing with her doll than in engaging in love matters. This is expressed both in her dance steps (walks on points, pivoting around her nurse, arabesques, graceful pirouettes), but also in her cheeky facial expressions. Similarly, in the fight between Romeo and Tybalt – shot in the rain, with the two young men getting soaked, and rolling in the mud – the couple is not just dancing, they are genuinely acting out a duel.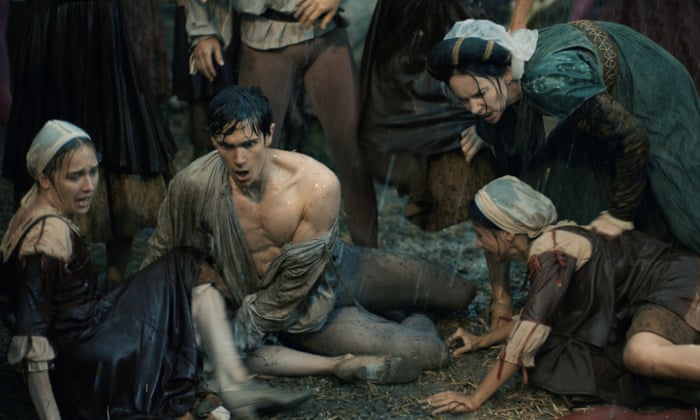 William Bracewellin a still from Romeo and Juliet: Beyond Words
Paradoxically, at times the enhanced and convincing acting highlights the artificial nature of the prodiction. While in a theatre we are more prone to buy into the fiction of what's happening on stage from the very beginning, here we are forced to jump in and out of the drama – group choreographies that feel enjoyable and less narrative are immediately followed by dramatic scenes that are pivotal to the plot. Both aspects of the film are valid in their own right, but at times feel dissonant when presented in close juxstaposition.
In all this, we still get to enjoy the power of danced-out storytelling. The famous balcony scene features a breath-taking, beautiful routine with the two lovers. At one point, Romeo lifts Juliet up and carries her around while she lies horizontally on his shoulders; the step fleshes out the sense of elation of being in love. In this case, being able to see the dancers' intimate moves so close, feels a privilege more than a pain point.
Reimagined for the camera, this Romeo and Juliet is bold and experimental. As it attempts to bridge two worlds, it brings the best of both to life, expanding the possibilities that ballet and film would have on their own.
Romeo and Juliet: Beyond Words is available on BBC iPlayer until 31st January 2020.